Product Implementation
In most of the cases we advice to do a Quick Scan before we start with the implementation. The Scan report will present the information on which we decide, together with you, how we are going to implement and organize TD/OMS, and which adjustments might be possible for your Software Life Cycle Process. If custom-made actions jobs are necessary, for example creation of certain interfaces, Remain can meet these special software requirements as well.
Implementation support
Minimize your risk with the Remain 5 step "SMILE" Implementation Approach
Our mutual target is to deliver a robust Software Change Management system. SMILE is proven, based on best practices and consists of 5 steps. Each step has its own deliverables with a specific purpose and context, which can be verified, reviewed and approved.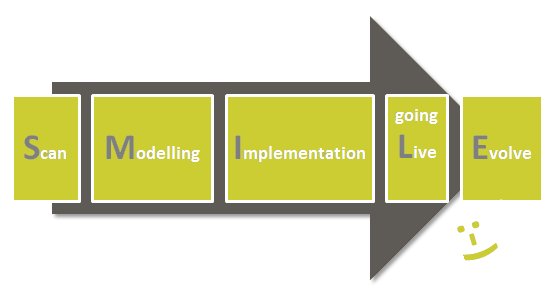 Step 1: Scan
The Quick Scan analysis will show the methods, processes and tools you use for software development within your organization. Our consultants map both written and unwritten procedures. The result of the scan indicates where possible bottlenecks in your Software Life Cycle Process could arise. Furthermore, we indicate how you will be able to solve these bottlenecks. If custom-made jobs are necessary, for example creation of interfaces, we can provide this special software requirements as well.
Step 2: Modelling
Modelling is the pre-implementation phase. A Proof of Concept (POC) will show that the solution can meet the requirements of the customer by using a limited set of the customer application.
Step 3: Implementation
The final tuning of the system. All neccessary steps will be taken to deliver a custom made Software Change Management solution at the customer premises environment. All Users and Administrators will be well trained.
Step 4: Going Live
The new operational Software Change Management environment can be fully supported by the customer or by us. After the delivery of the solution we support our customer to get them up to speed with our after care service.The degree at which after care is needed depends on the customer needs and requirements.
Step 5: Evolve
New changes and implementation. Your company will change. New activities and new requirements will occur and have impact on the software development process and the configuration of our TD/OMS solution. The continuity of your development process is our top priority.
A regular Health Check is needed to stay tuned and keep competition behind. New versions and updates of our solution will also help your company to anticipate quickly on new demands from your customers. Our Service Level Agreement (SLA) offer will guarantee recources and skills at the moment you need them.