TD/OMS
---
IBM i Application Lifecycle Management (ALM)
TD/OMS is an in-house developed, easy to use, flexible and cost effective Application Lifecycle Management (ALM) solution supporting IBM i (AS/400), Windows and Unix/Linux software change, development and modernization.
It incorporates fundamental IT business processes such as Application Life Cycle Management, Version Management, Release Management, and Software Distribution & Deployment. The IT organization is supported in streamlining the change process of any type of application, no matter the complexity of the environment.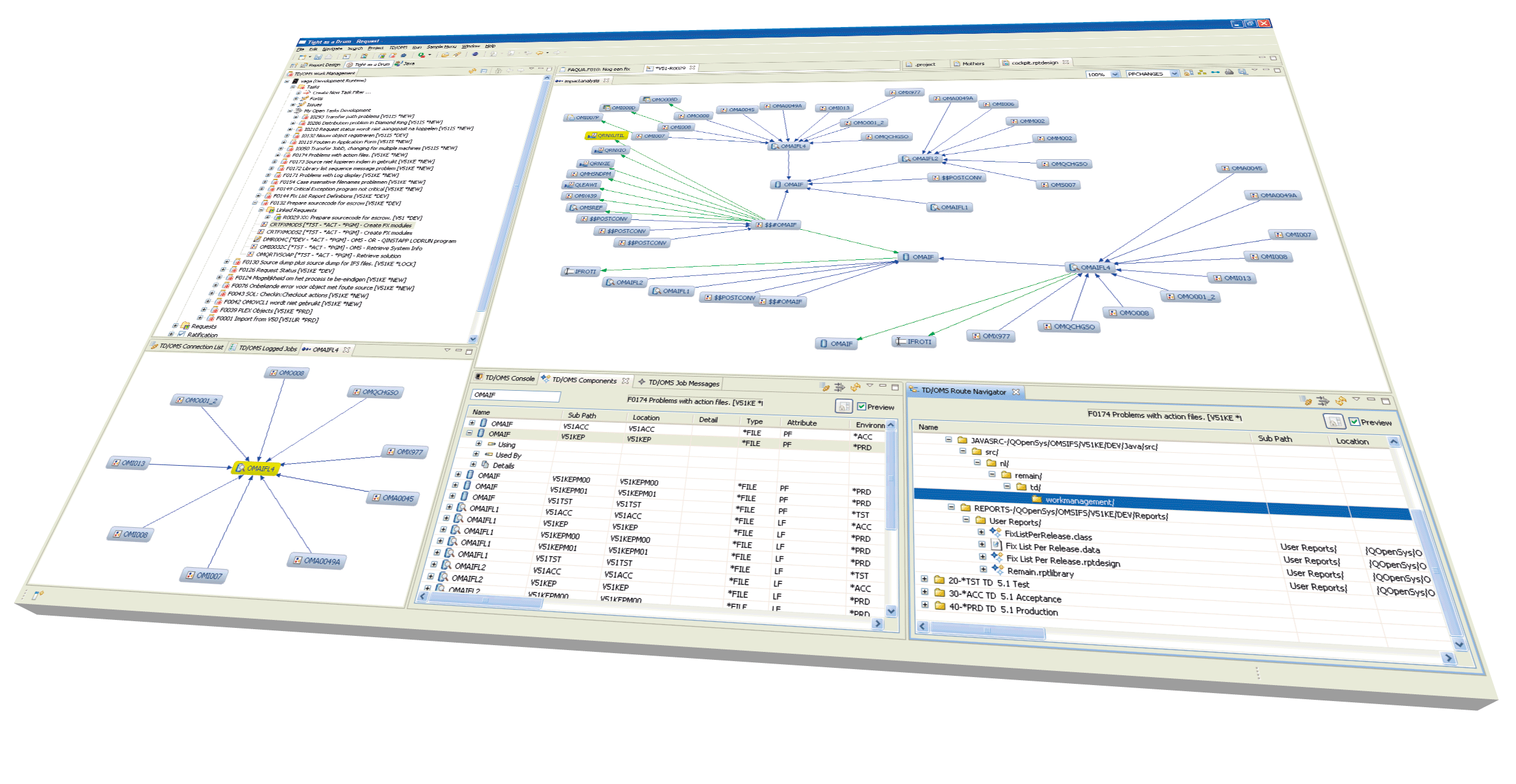 Complete control over software assets
TD/OMS is a modular solution that gives complete control over the software life cycle process and provides a real time overview of software components and configuration. Compliance and auditing requirements can be easily met due to the registration of all component movements.
TD/OMS defines applications and their related IBM i, as well as virtual, non-IBM i objects, like 4GL functions and single messages. These dependencies are then mapped in a software configuration database.
A "defined lifecycle" is created around this database. It reflects the process that is carried out during each software change which normally consists of the steps repeated during the lifecycle of a software component. Thus, it is not a one-time only process, rather an iterative one. It is repeated until a software component is at the end of its lifecycle.
After the control definitions have been entered, the daily operations for the end -user, IT -manager, DevOps, programmer and application manager are made easy. TD/OMS supports the daily operations and uses the application and environment definitions extensively. This results in a minimum of decisions to be made on the operational level. All exceptions are registered in TD/OMS, thus creating an active way of working, instead of a reactive one.
Built in reporting facilities present real-time information on how a change was made and how it was managed.
Are you (planning to start) using SQL? TD/OMS is the tool to take care of the SCM part of your SQL related activities. The SQL (generated) objects get the same treatment as the other objects. The relationships are also building up so you perform your impact analysis for SQL (generated) objects as you do for any other object. SQL specific elements (eg long names) are also supported.
If you are looking at modernizing your database than you can use the TD/OMS build in DDS to DDL support to convert your current database into a SQL database. If you prefer to use a third party tool (eg XA DB modernize) to help you with your database modernization efforts than TD/OMS will help you to execute the SCM related activities in the most efficient way.
The TD/OMS virtual object functionality gives you full control to treat a SQL script as if it is a real object. This means that you can execute any script as required. It makes this a perfect approach to use SQL for performing database conversion and data manipulation.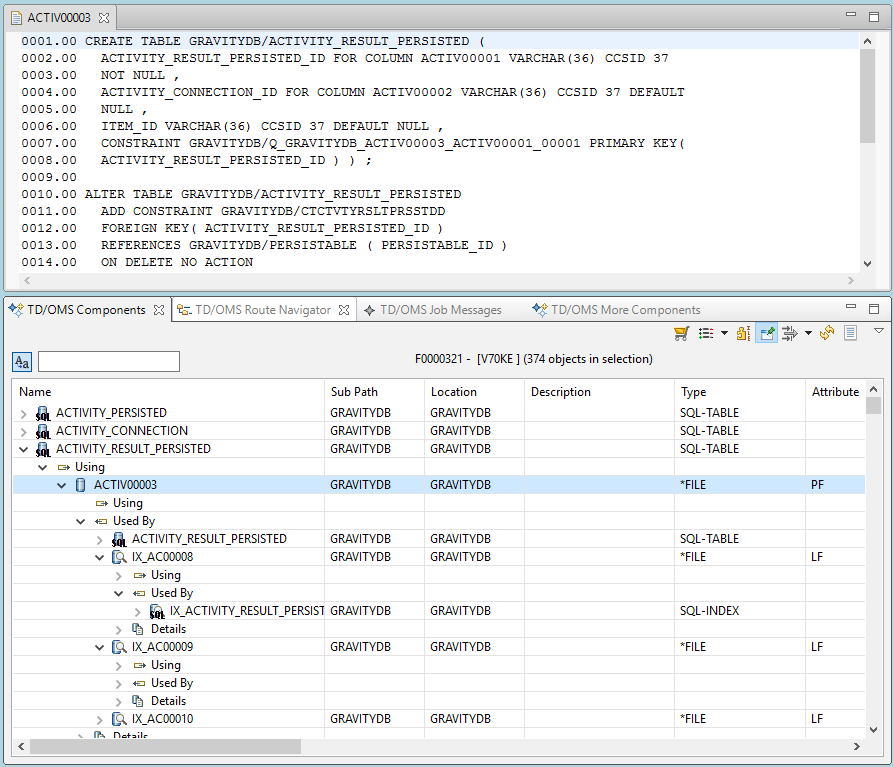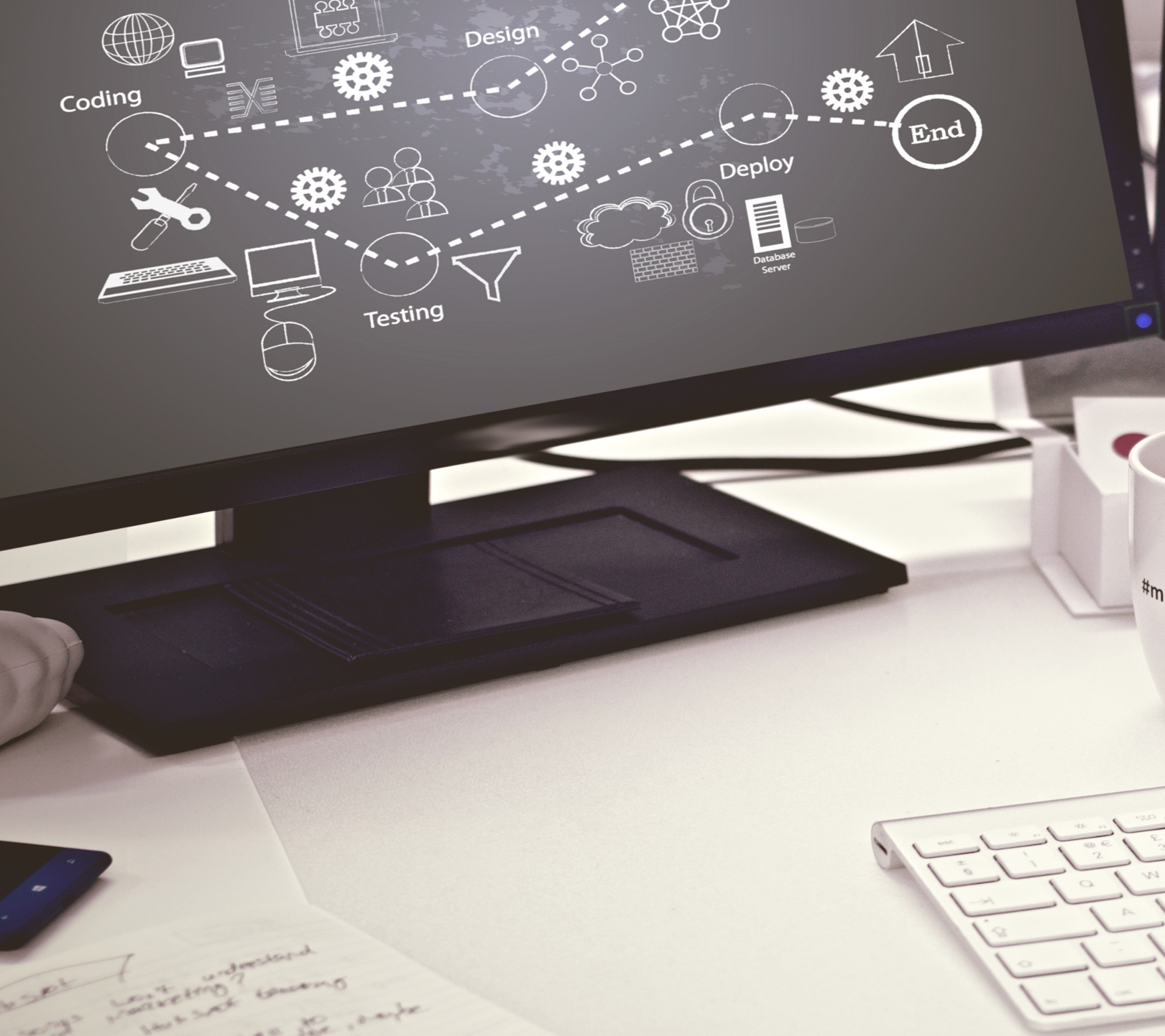 Flexible change cycle support 
Transfer and change history 
Request & Task Management
Rules based process definition
'Real Time' configuration database
Easy to use graphical impact analysis
Component & relation repository
Automatic or manual rollback
Source compare & merge (version control incl. IFS files; peer review)
IBM i off-the shelf applications' management support
'Green screen' or Graphical User interface
A DOUBLE-BYTE CHARACTER SET (DBCS) SUPPORT
TD/OMS supports entering text in any language possible. This means that also languages that require 2 bytes for each character are supported. These languages are also known as DBCS (Double Byte Character Set) languages. TD/OMS is using graphical character fields for descriptive fields to enable this support. Read more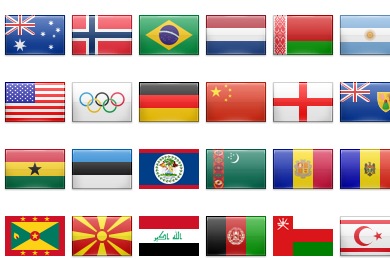 Graphical impact analysis
With Graphical Impact Analysis you are able to detect the effects of a software change request by analyzing the relationships between the components in a graphical way. The display of related components can be limited by use of filters on specific component and relation types. Common standard filters are shipped with the product, but you can also define an unlimited number of your customized filters. The resulting view can be printed, saved to a file and/or used to connect the components to a TD/OMS task.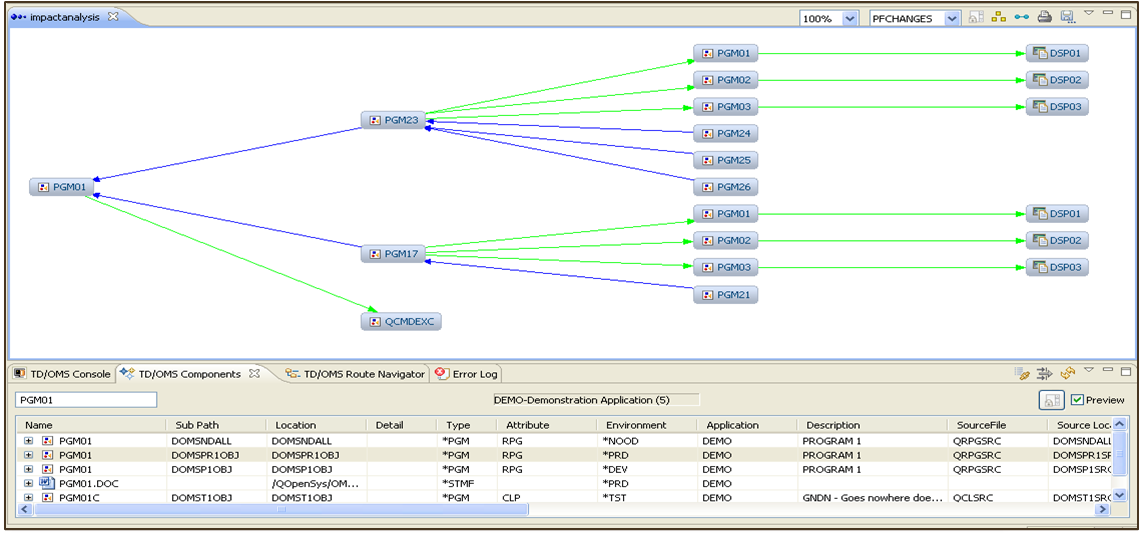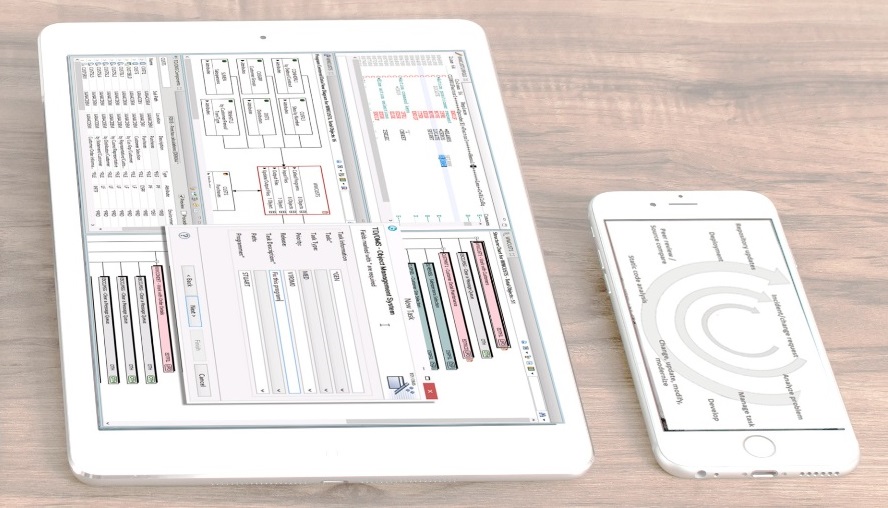 Insight and control over modernization projects
TD/OMS integrates with top industry solutions for modernization projects, such as X-Analysis (Fresche Legacy), RPG Toolbox (Linoma Software) and WebSmart PHP (BCD Software). The entire modernization process takes place under the TD/OMS control, and no data can be missed (TD/OMS stores the previous version of your software, so you can go back to it anytime, and keep the track/history of your software for reporting purposes - audit/SOX/ISO compliance). With such streamlined modernization process your new, modernized applications can be up and running really quickly. 
Secure and easy automated deployment
TD/OMS allows automatic software deployment to IBM i as well as non-IBM i platforms: Windows, Linux, Solaris, Mac-OS, Tomcat, Websphere and LANSA. TD/OMS controls the entire process for you. It transfers objects according to the defined workflow and takes care of the database conversion. In principle TD/OMS does everything which is needed to implement objects correctly and allows you also to deploy application components to a live application environment requiring 24/7 up-time.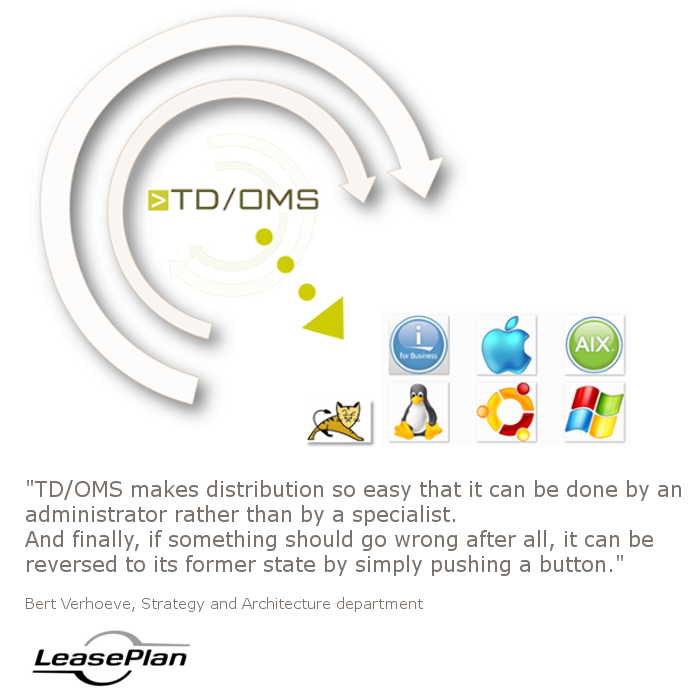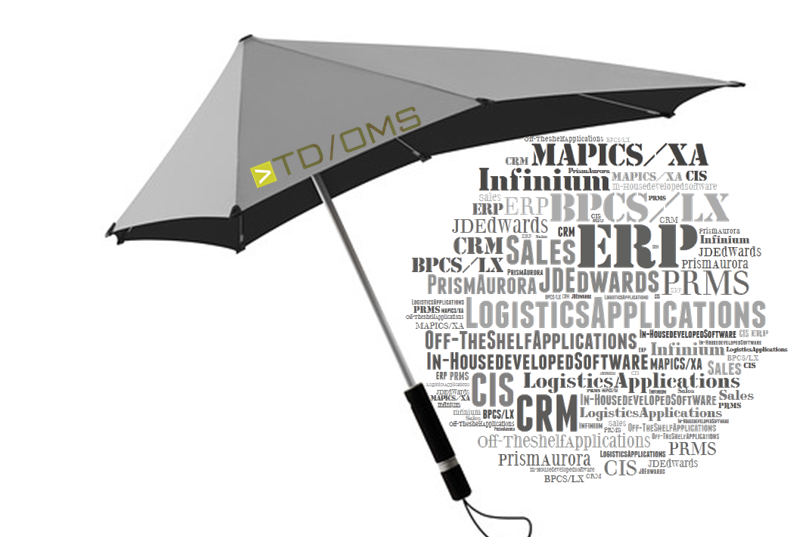 Off-the shelf applications management
TD/OMS with its built-in functionality, called Fusion, can manage changes of not only in-house developed applications, but also any IBM i off-the shelf applications coming from third parties. Before an upgrade of the off-the shelf application, users want to know what the impact will be to their custom changes. Fusion can help them to determine this impact and to generate the relevant work within TD/OMS. 
It has an extremely positive impact on the management of third-party applications' customization process or installation of coming updates and minimizes number of conflicts between all applications. 
Application history and traceability
TD/OMS registers all status changes in the history repository when components pass through the predefined cycle. Depending on the cycle definition the history will include version changes, source archiving and ratification information. The registered information can be viewed at a request, task and component level. TD/OMS contains a number of standard reports. An easy to use interface is available to create customized reports with the Eclipse reporting tool BIRT.
The functionality is extremely important for the purposes of laws & regulations (SOX, Basel II, HIPAA, ISO, etc.) as well as IT best practices compliance.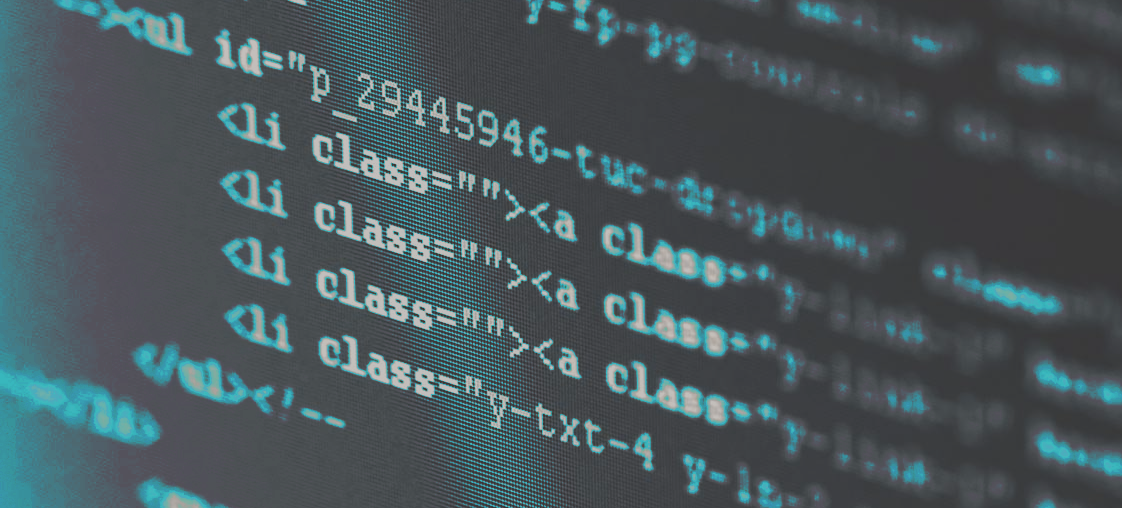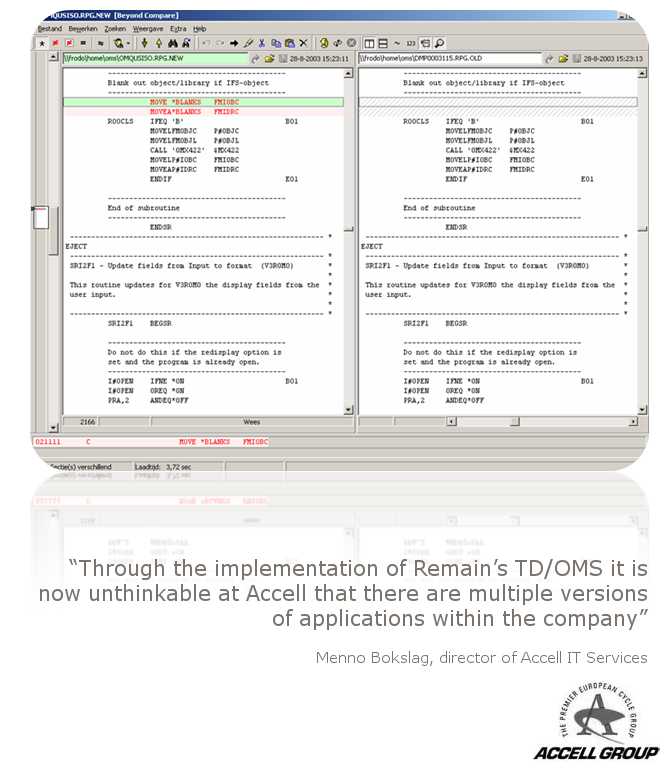 Source Compare and Merge / Version Control
TD/OMS Fusion Pro (Source Change Control), allows comparison of complete libraries of sources of an original and updated applications. If the modified software including retrofitted changes runs in the bigger environment, TD/OMS and its graphical  impact analysis module can show how the different components in the system interact; what files are read by which programs, or what "foreign" logicals are created over suppliers physical. Therefore, TD/OMS Fusion Pro as a part of TD/OMS allows the user to conduct a fast, effortless, stable and successful upgrade of the application, that will work properly in the entire system.
Not alone the automatic retrofitting of vendor changes can be done with Fusion Pro, also the use case where developers work on different versions based on the same ancestor, so called "dual maintenance" or "branches".
TD/OMS Fusion Pro can be used as a standalone source compare and merge product or as a part of Remain's IBM i Application Lifecycle Management framework, TD/OMS.
Integration with top solutions for IBM i
Support for legacy applications modernization: X-Analysis (Fresche Legacy), RPG Toolbox (Linoma Software), WebSmart PHP (BCD Software)
Task & workflow management tools: Remain Software Gravity, IBM Rational Team Concert, JIRA
4GL interfaces: LANSA, CA Plex, CA 2E, AS/SET, Magic, IDDOS, EGL, ProGen, etc.
Large data files management with TD/OMS Timeflash - an interface for MIMIX Promoter (Vision Solutions)
(Continuous) deployment to IBM i, Windows, UNIX , Linux, Tomcat, WebSphere 
Streamlined software development in Java, PHP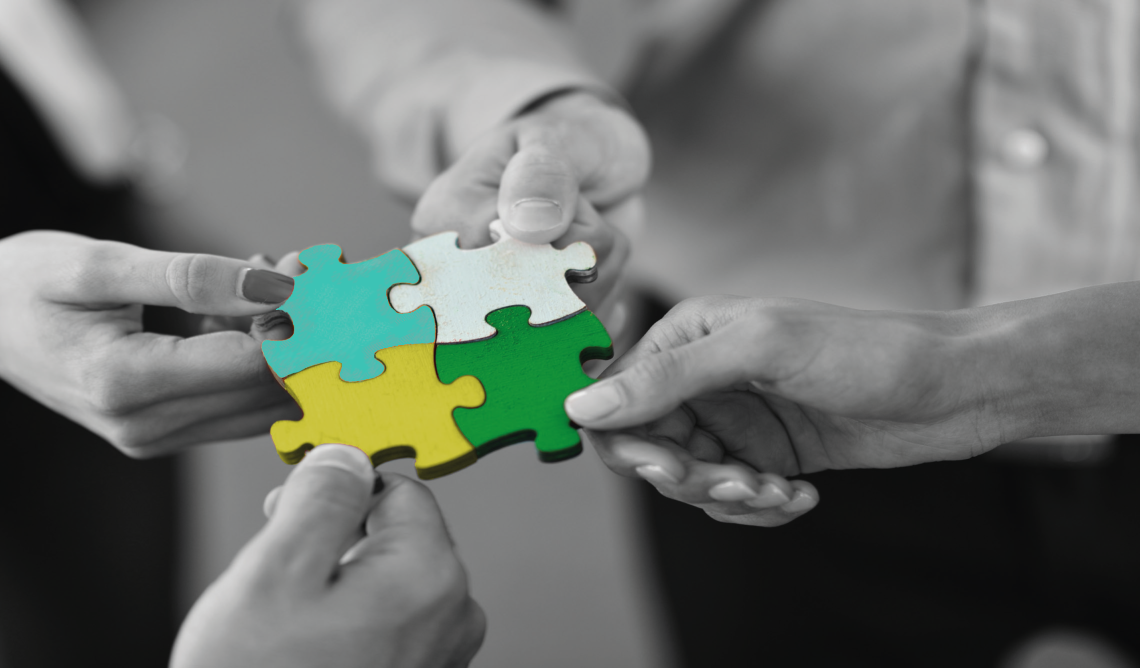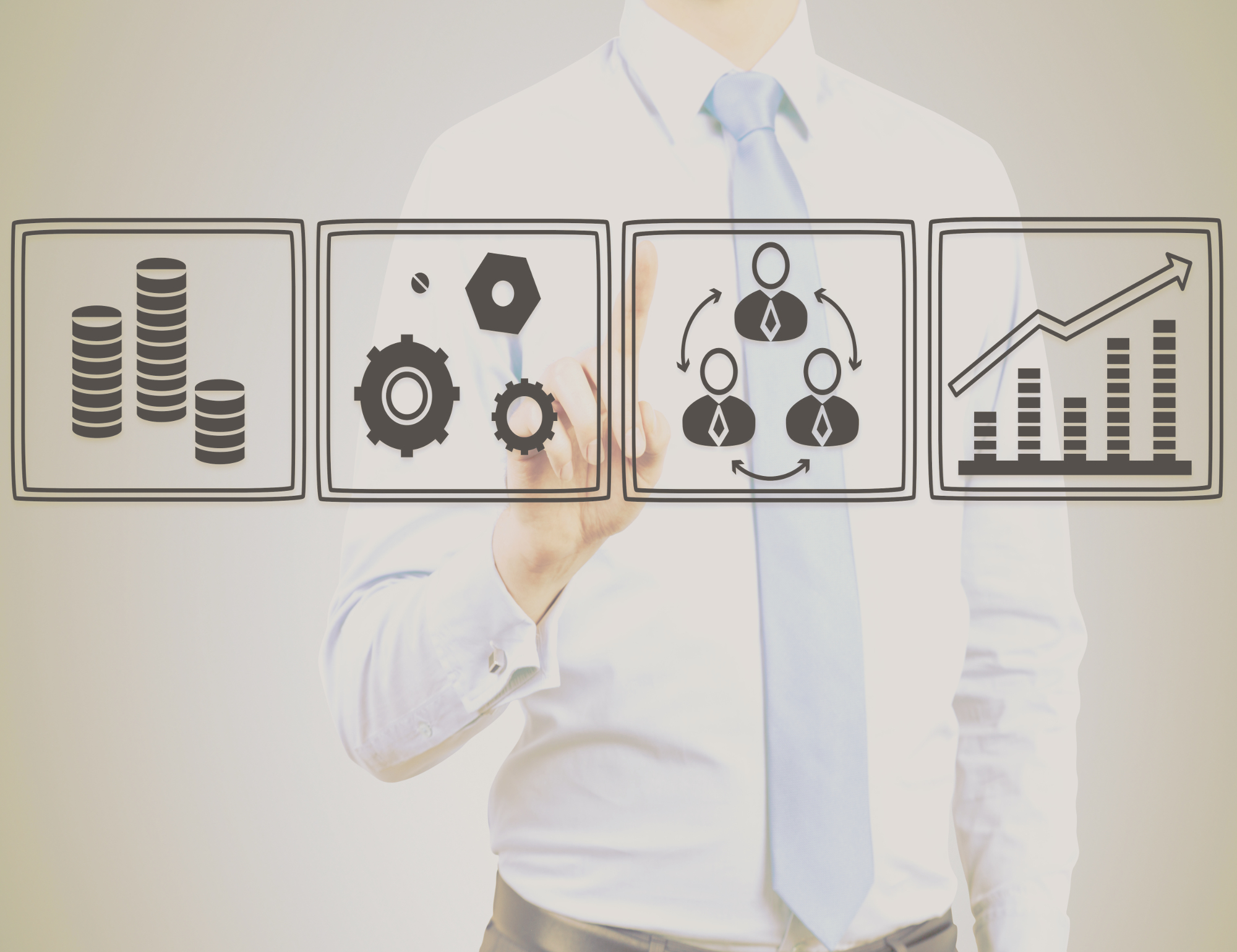 Benefits for your business
IT costs optimized
Multi-methodology way of working and significantly increased productivity
Shortened time to market
Increased IT reliability and control; high quality code
Integration to all traditional IBM i and Eclipse based development platforms
Modularity - use and pay for only what you really need
Support of laws & regulations (SOX, ISO, Basel II, etc.) and IT best practices compliance
Third party application software change support
Gained visibility and teamwork improvement
Workload predictability and quick implementation time
Standardized way of working and reduced risk in business continuity