X-Analysis Software Suite
---
Fresche View helps speed up IBM i development
With Fresche View, you'll be able to understand the impact of code changes across all your applications and make those changes with confidence. This results in better development, faster testing and greatly reduced risk. Fresche View shows you where to focus testing efforts so you can move projects forward quickly. It also allows you to on board new developers faster as they can quickly navigate applications by seeing a high-level graphical view of them.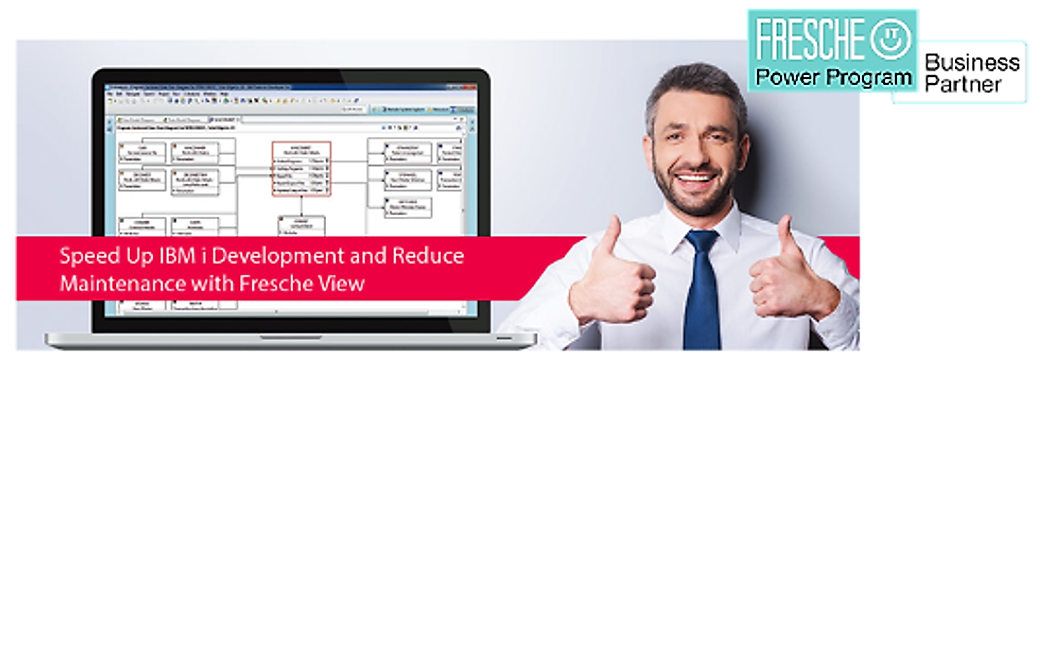 The knowledge and information contained in your organization's business software has been accumulated over many years and is extremely valuable. This information covers the operation, metrics, and design of the software but is often tantalizingly just out of reach.
Without this knowledge, maintenance and changes to the system are not as efficient or effective as they could be, and the risk of problems increases exponentially the larger the enhancement required. This can lead to paralysis, where changes aren't made due to a lack of confidence in the outcome.
A business rule can enforce a business policy, make a decision, or gather new data from existing data. In the systems that have been developed over decades, the business rules ultimately come to run the business. Often time the rules are rarely documented or fully understood. Programmers often must implement new programs with only a basic understanding of how the program impacts existing rules and processes. 


Audit, Quality & Change management
Applications running on IBM i are typically large, complex and have been developed by a variety of programmers and analysts over several decades. Without an automated audit and analysis tool, understanding such applications is almost impossible, especially for new resources who have to take over maintenance and development. The Audit, Quality and Change Management module of X-Analysis provides an exhaustive breakdown of every aspect of your application portfolio. 
The knowledge and information represented by your organization's business software design and metrics has been accumulated over many years and is extremely valuable. In the case of CA 2E applications, this design model is often out of reach to all except CA 2E developers. This allows new CA 2E developers and non-2E developers alike to understand and navigate their way through the application architecture efficiently and effectively.
 


There are a variety of reasons to modernize. The two primary reasons are to take advantage of IBM's latest database features while remaining on IBM i, and to make data more easily available to users. IBM no longer makes its newest database features available on DDS, so the move to DDL is essential. By moving to DDL, you are effectively opening up DB2 to your business.
Application Modernization
Fresche's X-2E Modernize is the solution for modernizing any CA 2E application. X-2E Modernize automatically re-factors and generates an MVC Web application using OO methods in Java or RPG Free (Flex & Silverlight UI soon to be added). Fresche's X-2E Modernize takes advantage of CA 2E application architecture to automatically convert applications.


Taking an automated approach with X-Resize removes the risk of human error, provides a detailed impact assessment for all instances for the resize project, eliminates the guess work and automatically handles all aspects of the resizing task.The X-Resize tool that automatically resizes database fields and all fields in affected programs. X-Resize also provides highly detailed, customizable reports that analyze and document the impact of any resizing effort on the IBM i. 
 
IBM i applications are often heavily modified over the years, and they typically do not come with a complete library of test cases or specifications. Building on X-Analysis, the world's leading IBM i code analysis toolset, Fresche has developed the industry-leading approach to testing IBM i applications. X-Datatest provides a fully-equipped framework and appropriate tools that configure and automate test cases; it gives you complete independence to carry out advanced testing operations.