GRAVITY
---
Gravity is a multi- platform (IBM i, Windows, Unix, Linux, Mac OS, etc.) task and workflow management solution for organizations that desire easier, faster, and more visible management of various kinds of processes across multiple departments and teams. Gravity supports process automation, and streamlines and controls all changes taking place within your organization – regardless of the methodology you use.
Gravity is primarily dedicated to IT teams to support issue tracking, work management and provide helpdesk functionality. Thanks to its integration with TD/OMS (Application Lifecycle Management solution on IBM i), Gravity adds collaboration and communication capability to better manage IBM i software development and modernization projects.
In practice Gravity can be used by the entire enterprise and provide a coherent and controlled workflow for any department (IT, sales, finance, customer service, warehouse, and others).
WHO IS GRAVITY FOR?
Software developers - improved collaboration within IT team,
IT executives - control and insight in workflow and workload,
Business analysts - improved alignment of business needs with IT assets,
DevOps – to link the work of developers and operations even better.
You will be surprised how quickly all departments will benefit from using Gravity!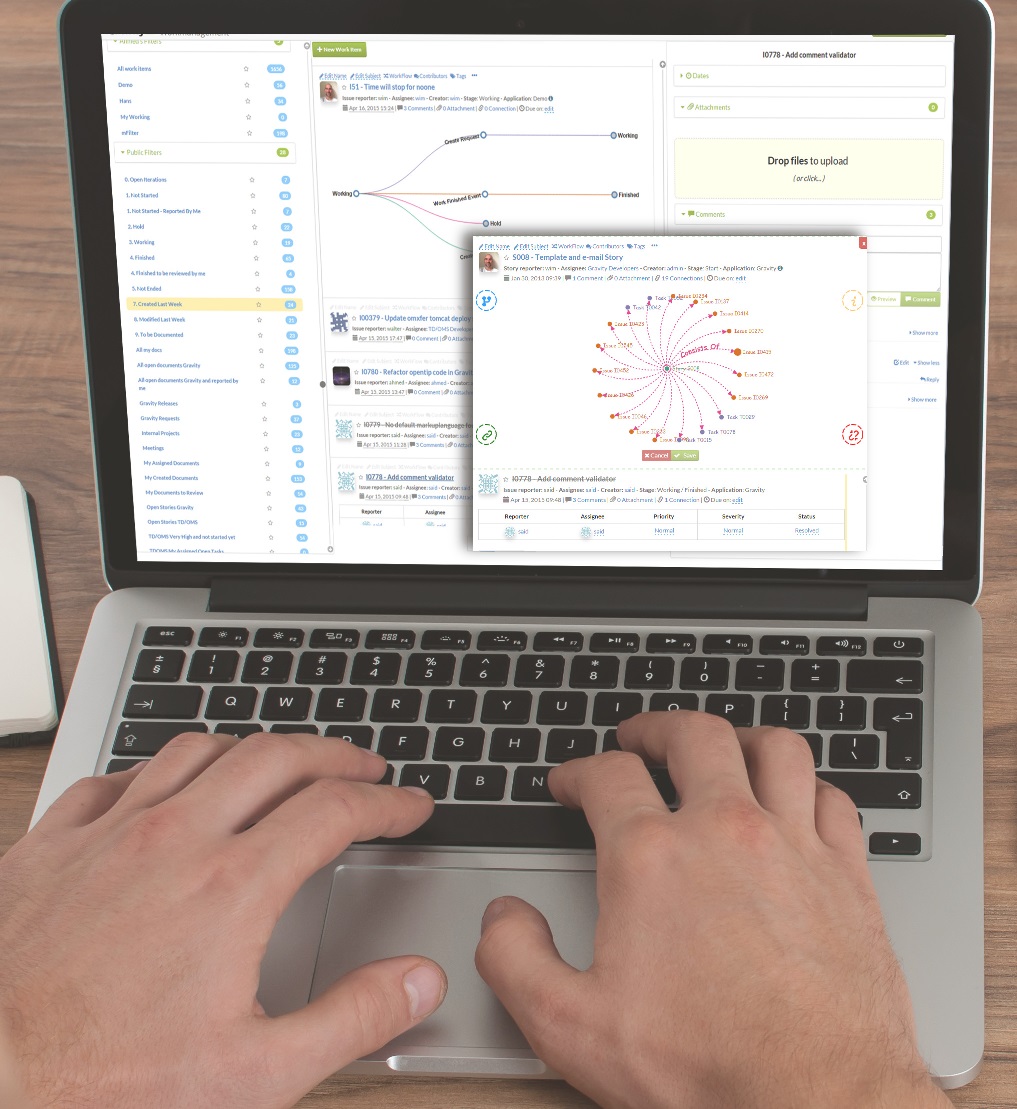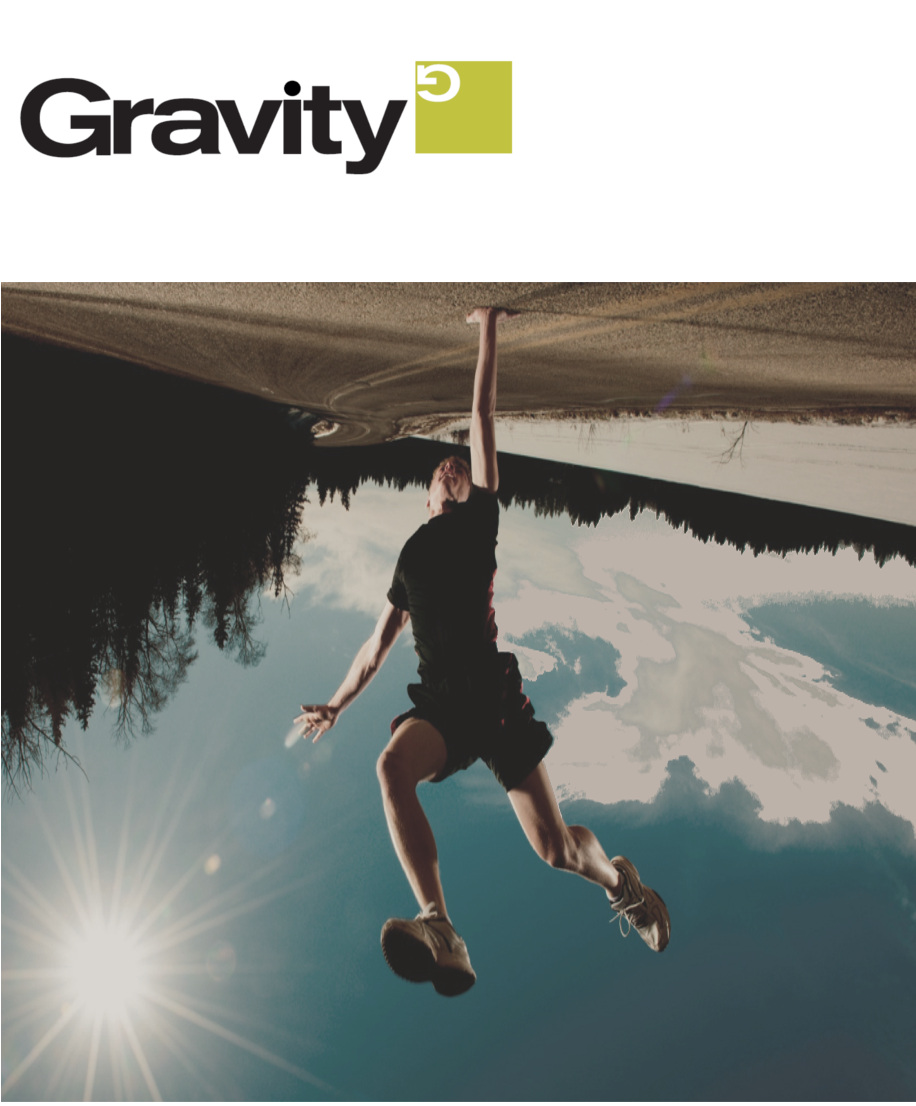 Methodology independent process automation (AGILE, Scrum, Waterfall, XP, etc.)
Workflow design with customized documents, tasks and user roles
Task management and process automation
Activity personalization (e.g.: sending e-mail, calendar management, starting a build on a build-server, enforcing users to enter sign-off information, etc.)
Event management (event processors to perform all sorts of tasks like auditing, process triggering, notification, e-mail and others)
Access through web or rich client
Project management support with individual task time estimates and team member workloads
Notification system improving information flow between multiple teams and team members (changes/requests/problems defined and assigned to particular employees with defined deadlines or time-frames)
Collaborative application lifecycle management thanks to integration with TD/OMS ALM
Strong security capabilities with users' authorization and authentication
Social collaboration features, like following or tagging
Multiplatform (IBM i, Windows, Unix, Linux, Mac OS, etc.) and Multi Database (DB2, Microsoft SQL, Oracle, MySQL etc.) 
Eclipse, Service Oriented Architecture (SOA), OSGI 
Graphical presentation of item relations
Use Gravity to design a workflow with customized items, e.g. tasks, requests, issues (consisting of Attributes, Planning and Estimates, Description, etc.). This defined workflow will precisely show the end-to-end path of these items - from assignment to production. Once you have completed the design of your workflow, Gravity will enforce the whole process for you. Your items can be easily assigned to the responsible people, and once processed within the workflow, immediately updated with the appropriate status.
You can also tailor your workflow with customized activities, like sending e-mail or managing your calendar, or other, more complex tasks like starting a build on a build-server, enforcing users to enter sign-off information, and many others.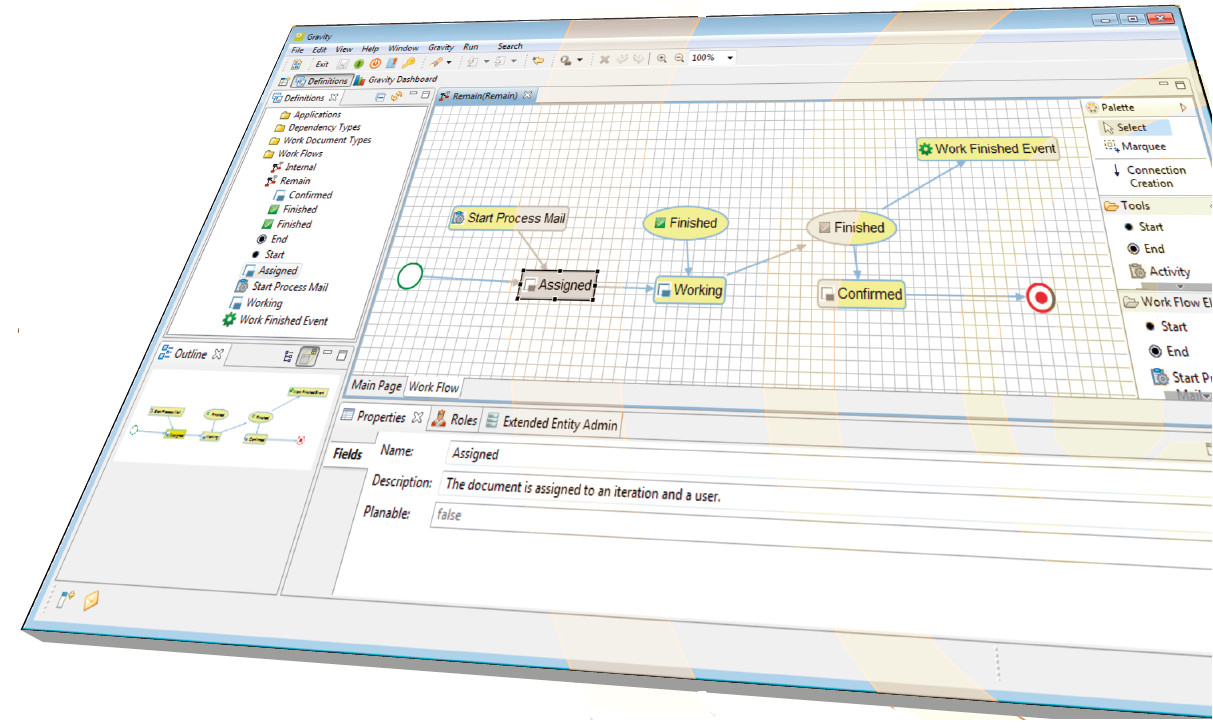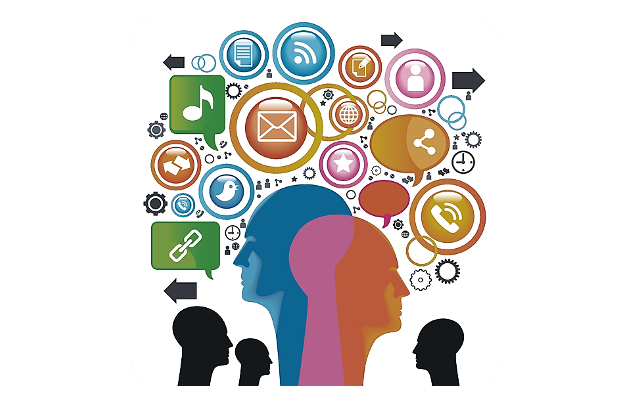 Communicate with your team effectively
Gravity facilitates transparent information flow between multiple, even geographically dispersed, teams and team members. It registers all changes that take place in your enterprise and sends notifications about these changes. You can easily define what kind of changes are important to you, and if you wish to be informed about them.
With Gravity you can specify notification receipt times and where you'd like to receive them – such as in your mailbox, on your smart phone or any other device.
Streamlining communication within Gravity also means that you can define and assign changes/requests/problems to the people involved. These changes can be described in stories and then split into multiple tasks with defined deadlines or time-frames. The user responsible for completing the task will be notified about it right away! 
What's more, each Gravity user can see the work assigned to them and to other users and view task status and schedules. 
Using Gravity, project management can be facilitated on both detailed and summarized levels. Project managers will benefit from the ability to manage individual task time estimates and team member workloads. This enables full control and visibility of project workloads, predict time requirements for an entire project and ultimately result in better project planning.
Gravity helps each user manage his or her own work. With the ability to personalize views, documents, information, processes – in general, everything that goes through Gravity, users can concentrate on information and tasks they're actually involved in and know exactly when and what to do. Gravity allows you to control single tasks as well as entire projects.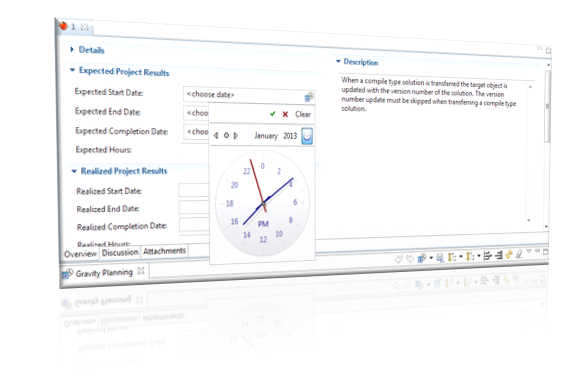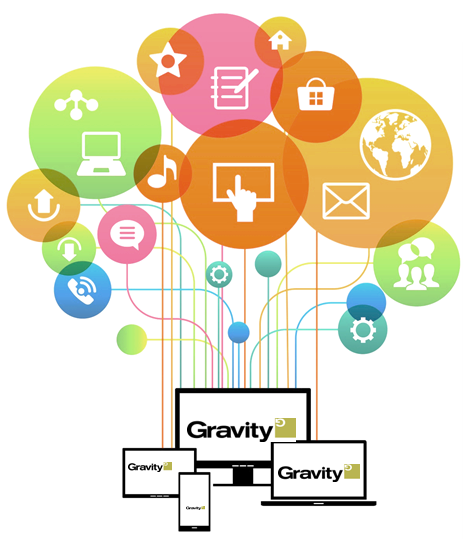 Access your projects. anytime, anywhere.
Next to the rich client version, Gravity is also available as a web-based application. This gives you free and easy access to your projects management system whenever and wherever you need it. 
Save time. Communication with your colleagues, managers, customers, or whoever is part of your project will be easier than ever. You can assign tasks, share documents and post comments or project status updates and share them with any team member.
Freedom. If you need the remote access to your project management tool even after working hours, Gravity allows not only easy, but also secure access to your projects, tasks and documents any time, anywhere you need it.
Easy to use. Gravity web client does not require time consuming installation or complex training. It's really user friendly and lets you start working with it right away regardless if you're a software engineer, IT manager, sales or marketing. 
Always up-to-date. You don't need to worry about upgrading Gravity. We will make sure that you always get the latest version of your software
HelpDesk for your customers. Web based Gravity can also be used as a helpdesk application for any IT department or software-house. It's also a great solution for software vendors and their customers to streamline communication and scheduling of software upgrades/updates. 
No system performance overweight. Web-based Gravity will not slow down your computer when you need to run other business applications, so it won't make your work slow either!  
Flexibility. Gravity is available and works perfectly on any browser, also on your mobile devices. You won't miss any event in your system again!
Better work management. With Gravity you can manage not only projects shared with your teammembers, but also take control over your own work or collaborate with external parties. Use one solution only for all your daily tasks.
Your Internal HelpDesk system
Gravity can be used as your internal HelpDesk system. Any request/issue/ticket created by any of your company employees, from any department, can be tracked, organized, and managed with this single solution only!
Thanks to Gravity integration with Remain's IBM i Application Lifecycle Management solution, tickets can also be promoted to appear immediately on the developers' dashboard as a new task in TD/OMS. The integration greatly improves management of software change and facilitates alignment of IT with business changes.  
You can also use Gravity as a communication platform with your customers, suppliers, business partners and whoever you can even think of!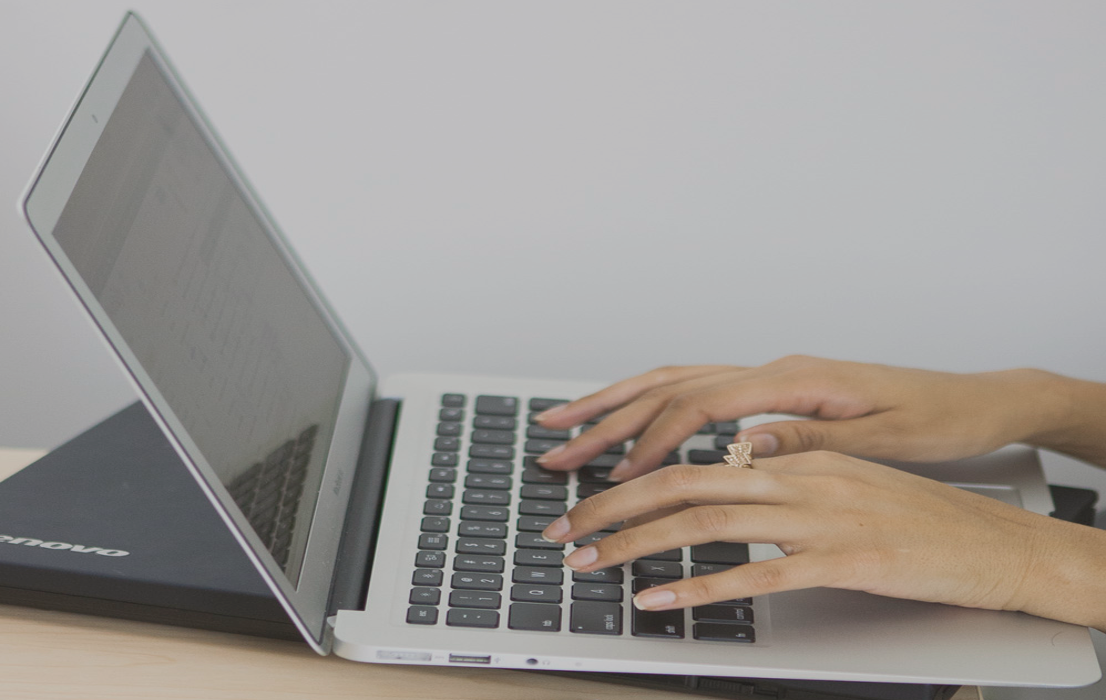 Gravity is primarily dedicated to IBM i users, but companies already working in a heterogeneous environment or who are considering moving to another platform in the future can count on a protection of their investment. Gravity is a platform independent task and workflow management solution which roadmap leads to fully supported, platform independent application lifecycle management.