Connected development: release of TD/OMS V 10.1
---
Wednesday, June 13, 2018
Please press the button below to join the final release party that will be streaming live on YouTube on 21 of June, 2018 at 16.00 CET.
The final release party invitation
Some highlights of the new release:
Besides the abnormally (*TERM) transfers the normally (*NORM) ended transfers are now shown in their own node;

OTRS is integrated into TD/OMS. You can view your tickets inside the work management view link them to your tasks or requests. This integration provides a high level of convenience for the TD/OMS user that wants to integrate OTRS with TD/OMS change management;
Explore all the possibilities in our Framework Interfaces Guide;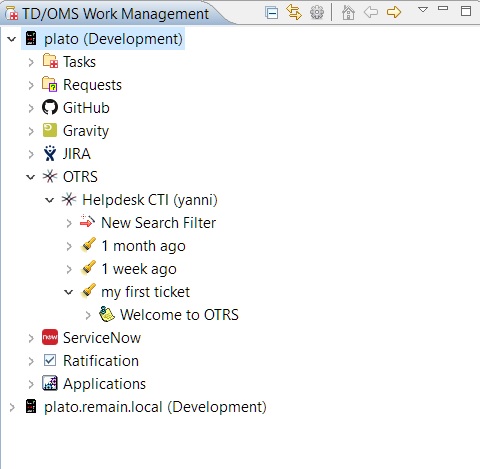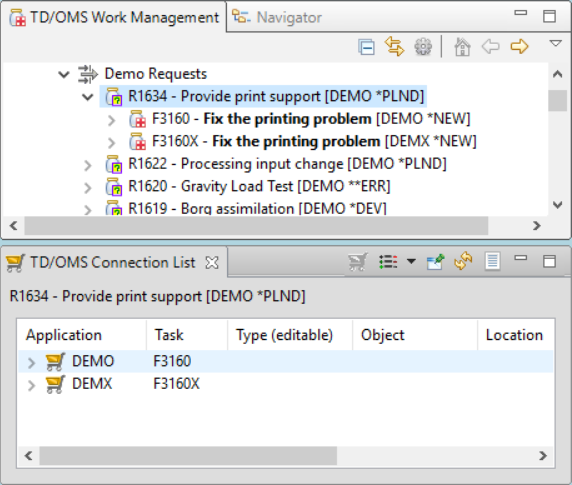 Connection list should react on request
When multiple applications are connected through a request the connection list shows the connection list of all connected tasks;
Explain interface from PKS
We have created an interface with eXplain from PKS. With the interface installed you can jump into eXplain from a selected object. From there you can investigate your components with eXplain;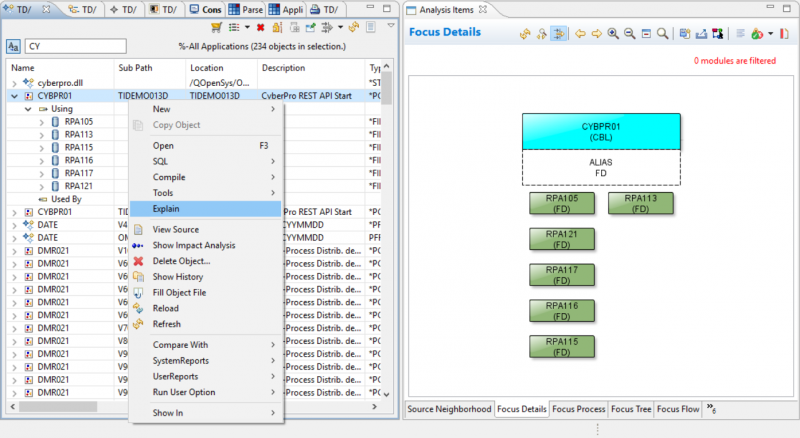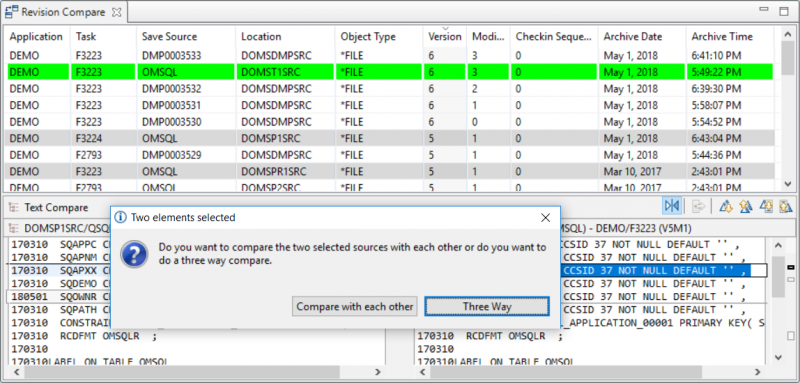 The source compare and merge functionality can use a common ancestor when comparing two changes. Select CTRL+CLICK on three components from the components view and select "Compare with each other". Alternatively, select one object, select compare with revision and then CTRL+CLICK select three objects you want to use in the common ancestor compare. The following has been added:
Compare table has a green entry for the object you selected
The source to be used as the ancestor is selectable
Swapping left and right is enabled;
Create new object from existing object
To quickly create a new object from an existing object using the new Copy Object action;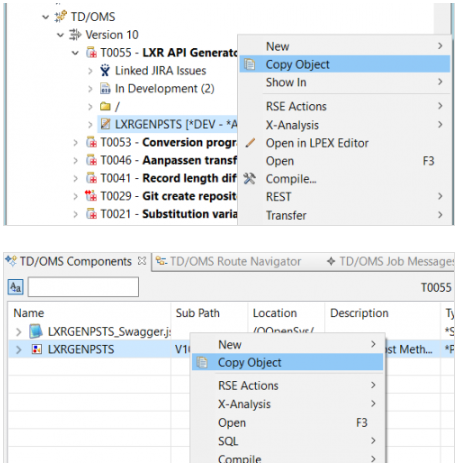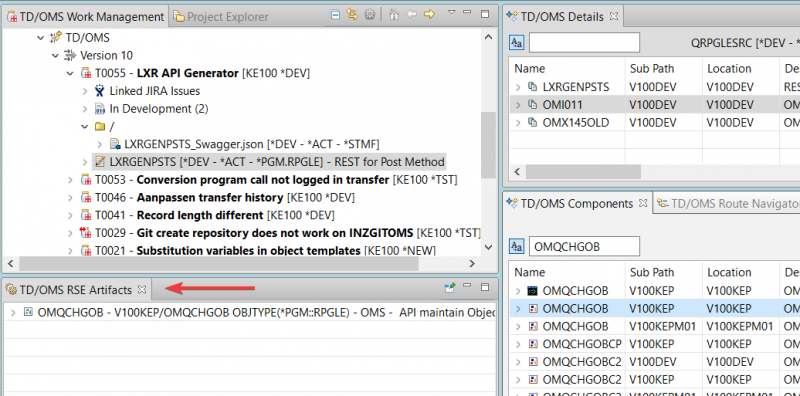 RSE Artifacts must also be shown for object and detail
The RSE artifacts view also accepts input from the Components and the Component Details view. The RSE Artifacts view enables you to start RSE actions without leaving the TD/OMS perspective. It enables you to:
Start the debugger
Change data area contents
View sources
Start alternative editors
Etc...
A user can select a date condition by specifying a range of dynamic dates, e.g. all tasks that have started 1 month ago and are expected to end in a week. This filter will always bring the tasks within that range without having to come back to specify which date. It is also possible to choose a date as the middle date that is not today or specify the number of days instead of choosing one of the available periods;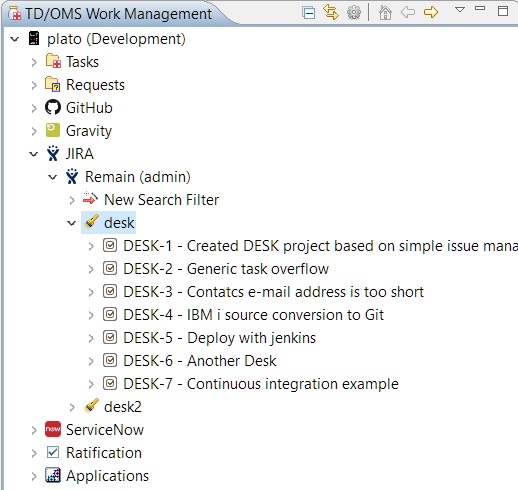 JIRA is integrated into TD/OMS by using Remain's standard methodology. You can view your issues from your projects inside the work management view of TD/OMS and it is also possible to link them to your tasks or requests. This integration provides a level of convenience for the TD/OMS user who wants to view its items in a fast way or link TD/OMS items to them.
Explore all the possibilities in our Framework Interfaces Guide;
Show deleted component entries in components view
A new button is added "red x icon" that shows the terminated components and the components marked for termination. If a task is selected and the "filter on task object" button is also pressed then only the terminated components of the selected task will be displayed;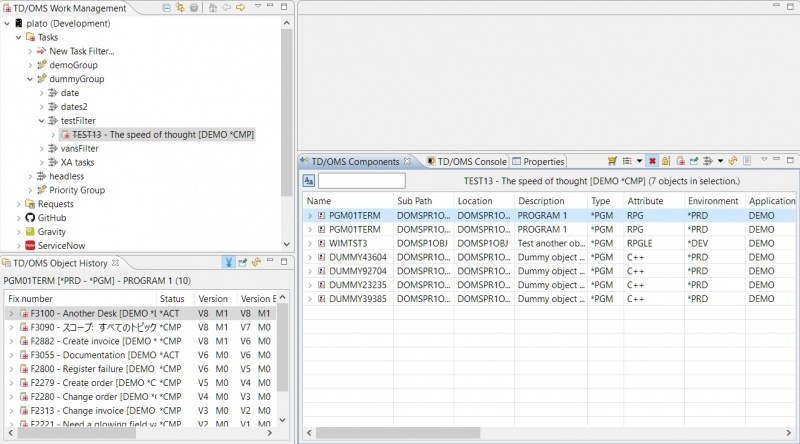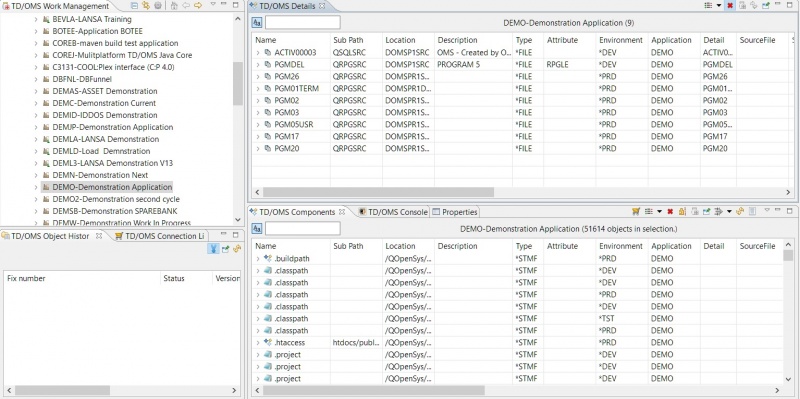 Select System, Application or Task in details view
The details view is triggered on system, application, task and component selection. In addition, two new buttons are added. The "red x icon" shows the terminated components and the components marked for termination;
Service program level check
When a service program is processed TD/OMS will check if components that use the service program are also in the transfer (when going to production) or in the task (when moving around in intermediate environments);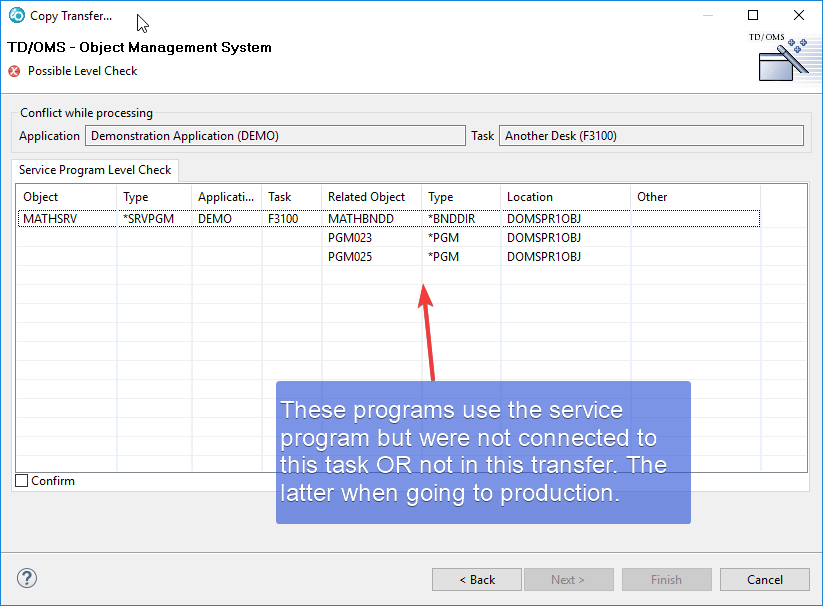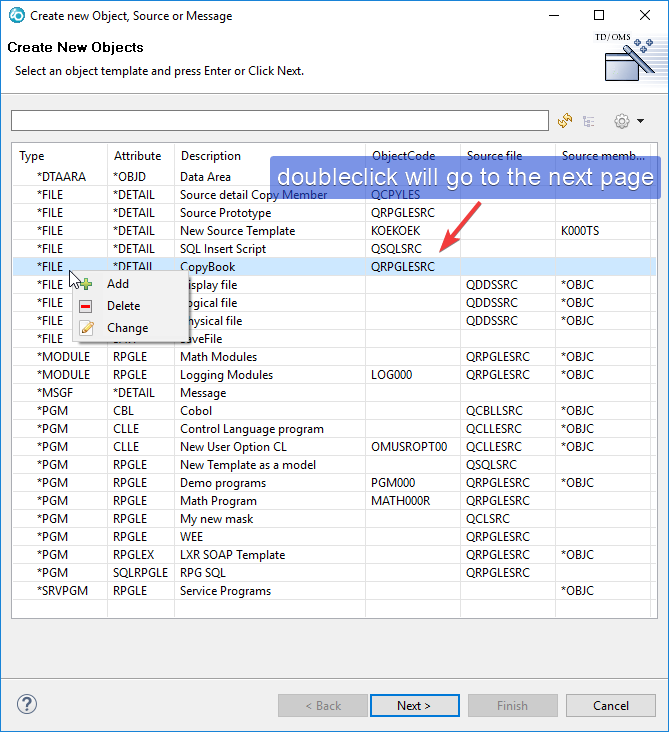 Enhancements for the new object and template editor
The following updates have been added:
Double-clicking a template will advance to the next page without having to press "Next"
Templates now have a context menu
Source attributes are now copied correctly from the template
The pop up of the new Object wizard has been made faster
The templates have been added to the "New" menu of the context menu;
We can filter the components view by all objects in a task. When the task icon is pressed in the toolbar of the components view, the view will be populated only with objects from the task;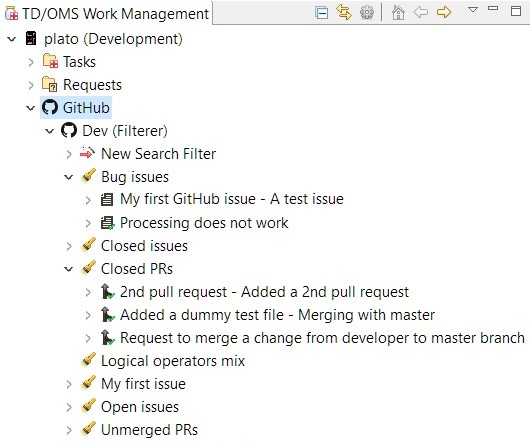 GitHub is integrated into TD/OMS. It enables you to view your issues and pull requests from your repositories inside the work management view of TD/OMS. It is also possible to link them to your tasks or requests. This integration provides a high level of convenience for the TD/OMS user that wants to integrate GitHub with TD/OMS change management;
Explore all the possibilities in the Framework Interfaces Guide;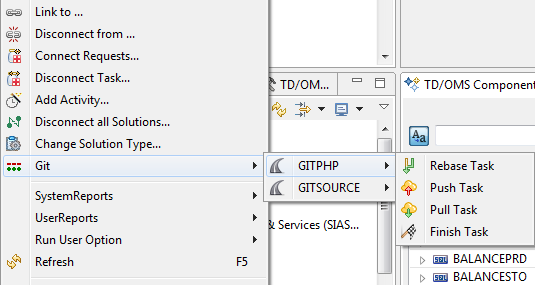 The Git interface has been enhanced since our first introduction in V9.1. The TD/OMS Git Integration is based on the Git Feature Branch Workflow model. All task related development is performed in a dedicated branch allowing multiple programmers to work on a particular (or even the same) feature or change without disturbing the master branch;
More information can be found here;
ServiceNow is integrated into TD/OMS. It enables to view your items from your ServiceNow instances inside the work management view of TD/OMS while you can also link them to your tasks or requests. This integration provides a high level of convenience for the TD/OMS user that wants to integrate ServiceNow with TD/OMS change management;
Explore all the possibilities in the Framework Interfaces Guide;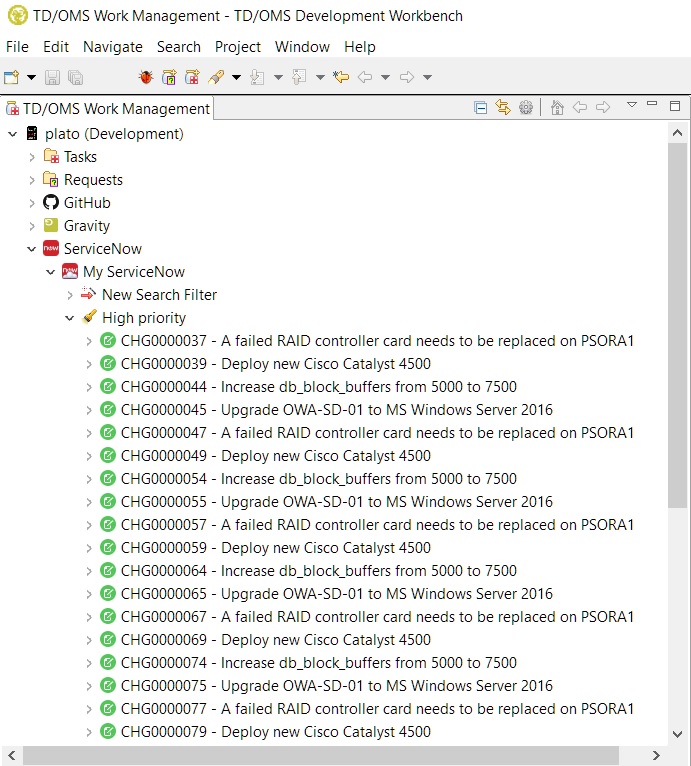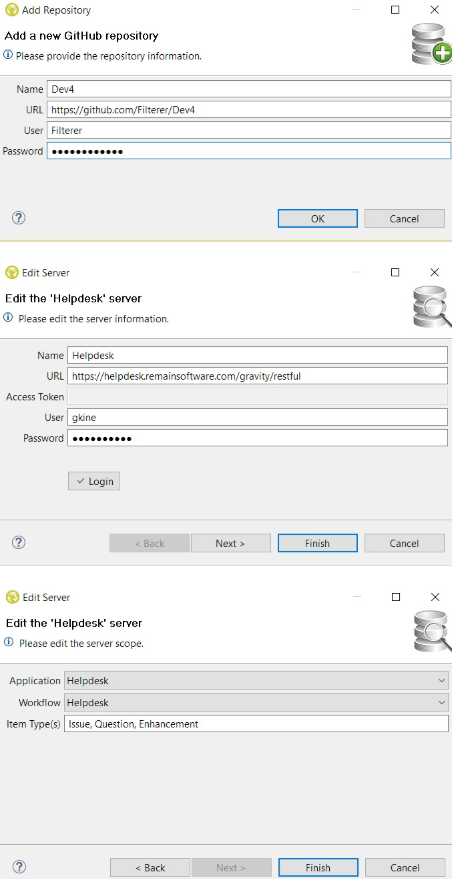 Dialogs and wizards are redesigned
All the dialog and wizard windows concerning login and server management (add, edit or delete servers) have a new look;
A new Object History report has been added to the system reports context menu;