TD/OMS Gets A New Interface For CA Plex
---
Tuesday, February 3, 2015
Our flagship Application Lifecycle Management solution TD/OMS gets an alternative new interface for CA Plex, a CA Technologies Architected Rapid Application Development tool for IBM i, Windows .NET/Azure, Java, J2EE. The integration is the result of cooperation with Stella Tools, a CA Plex open source initiative, and is available now.
TD/OMS has had a CA Plex interface for a long time, but with advancements in the CA Plex IDE, the opportunity to improve integration between the two tools was an obvious one and will benefit the CA Plex community. Stella Tools aimed to allow a CA Plex developer to orchestrate what objects are connected to TD/OMS tasks within the comfort of their own CA Plex IDE.
"The way the two tools work together is very simple" - says George Jeffcock, the founder of Stella Tools. "After the assignment of a task, a programmer is able to select objects via their object browser and by the right context menu invoke a CA Plex generated window palette. This window palette can filter and/or gather the objects before dragging and dropping the objects onto the desired task within a version of TD/OMS Work Management tree." – he continues.
The act of dragging and dropping the CA Plex Object(s) on a task updates the TD/OMS objects database and connects the object to the task as a solution.  The window palette, a model API client application, intentionally does not duplicate any of TD/OMS functionality so with this in mind everything after this point is handled within TD/OMS.
"We really like the initiative of Stella Tools to make CA Plex interface for TD/OMS available for broader community of CA Plex users. The way it blends in with the main tool is fantastic. Stella Tools did a great job and their knowledge of CA Plex is really impressive." – says Wim Jongman, a CTO and managing director at Remain Software.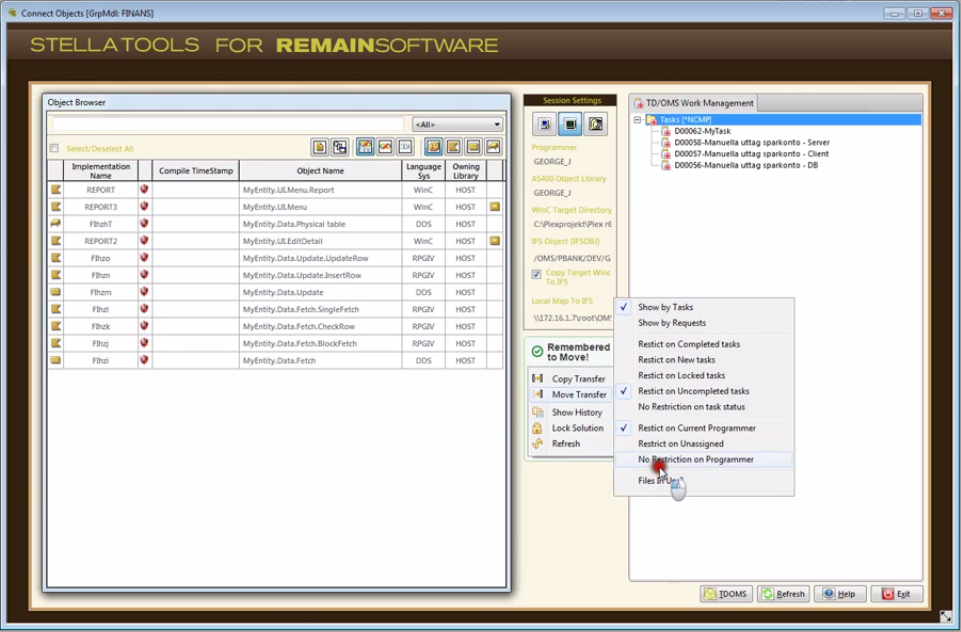 Resurs Bank , a Swedish bank specializing in consumer credits and unsecured loans, recently chose TD/OMS as their IBM i application lifecycle management solution because of the support for both CA Plex and native IBM i developers. RDI integration and the deployment of Microsoft windows objects were of paramount importance.
"Our software quality has greatly improved with the use of TD/OMS, we now have a robust and reduced timed procedure to move our business projects through our development phases and onto production. The CA Plex interface also stops conflicts of developers working on the same objects, as TD/OMS naturally does with native RPG objects." – says Fredrik Wingren, Software development team leader at Resurs Bank.
About Stella Tools
Stella Tools is an initiative to offer free and open source solutions to the CA Plex community while concentrating on exciting areas such as Model API, Automated Testing and Change Management. All solutions are built with CA Plex itself.
For more information about Stella Tools please visit www.stellatools.com