TD/OMS V12 Milestone 2 Enhances Support for Change Management, Integration and Total ALM
---
Tuesday, February 25, 2020
Driven with care by our ongoing commitment to you, we arrive as scheduled at another quarterly Milestone along the road to your success. The release of TD/OMS V12 Milestone 2 signifies an array of intuitive, efficiency-boosting refinements built to further streamline and enhance your application-lifecycle management and overall development experience. Furthering our support for third-party tools, and featuring notable enhancements to integrations, user interfaces, source-management and more, today's release marks expansions in clarity, productivity and control as you navigate change-management, workflow and DevOps.
TD/OMS V12 Milestone2: On schedule, on point, on your way
In line with all of our quarterly releases, we designed Milestone 2 to advance your business and development potential and our ultimate goal: Help you produce better code with speed, ease and an increasingly intuitive and fluid developer-user experience. 
We thank you for your feedback and trust, which enable us to respond with solutions engineered to support your current and future objectives as you "grow with the flow" within the ever-changing technology landscape.
Pull over now for the scenic overview. From the entire Remain Software team, here's to your ability to "Embrace change and Remain in control" of your business and development inroads!
What's in it for you?
Extended Bitbucket support.
Grouping objects by utilizing labels.
Xref with FTP, SFTP, SMB.
Xref with sources on an IBM i IASP.
Solution for reinitialized identity column.
Additional features and refinements await you!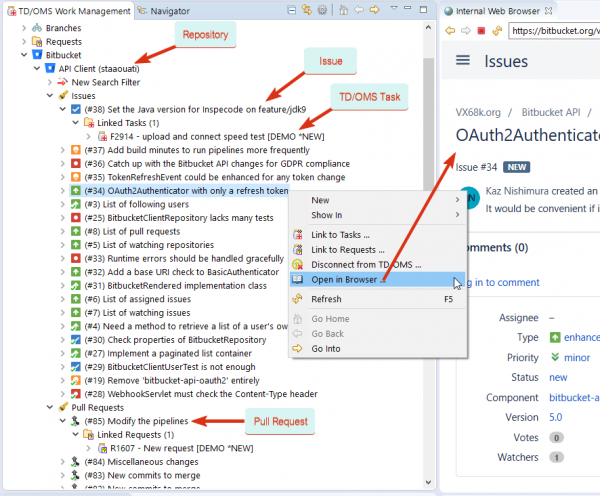 Bitbucket support
Our latest version has full support for Bitbucket, including:
Uploading IBM i and/or IFS sources.
Workflow integrations.
Ticket integration.
Merge request integration.
Labels
We have added a new option enabling you to add labels to objects. With these labels you will be able to trigger actions, compiles and location selections and filter them in the "Components View" of the GUI.  Labeling allows you to work with groups of objects faster and more easily. Labels can be created in the GUI or in green screen with a command-line API; then manage them as you need.
How simple is it to label an object?
Right-click on the object in the task or components views and select "Labels..."
The label dialog will appear, enabling you to label an individual object.
Easily navigate your way through:
Adding/creating a new label.
Filtering capabilities.
Labeling an object.
Retreive a list of available labels (filtered items).
Obtain a list of all the labels associated with an object.
Organize objects more efficiently, and make life easier!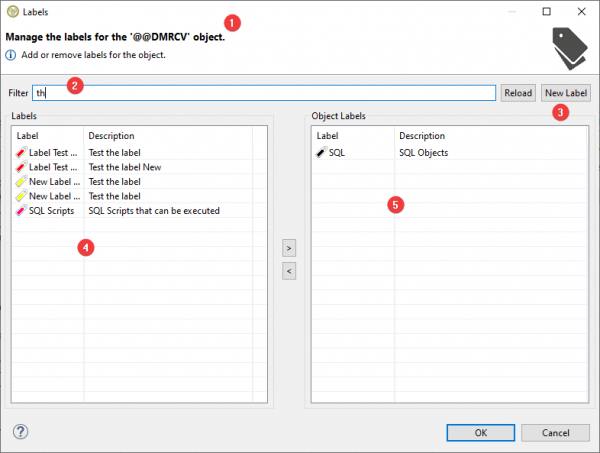 Xref with FTP, SFTP, SMB and/or with sources on an IBM i IASP
We have further extended Xref, our advanced cross-reference and impact-analysis for IBM i and multi-platform.
Now, if you have source libraries located on the IBM i that are stored on an independent auxiliary storage pool (IASP), Xref can access them by providing the fully qualified location of a source library.


And for sources not located in a repository, an Xref location can now be provisioned using file transfer mechanisms such as SFTP and SMB (Windows share). The location type "Files" will accommodate the file transfer protocol FTP, FTPS, SFTP, SMB and File (local file copy).
Parallel checkout for Xref locations
Previously when adding a new location for Xref, the process was to create the location and then index all the sources, running in a sequential manner. The sequential jobs would slow down the overall Xref indexing process if a location had an exceedingly large set of sources. With the release of Milestone 2 we have modified this process to run in parallel. Now you can submit multiple checkout jobs to run parallel, speeding up the process.
Additional Git enhancements for a seamless experience
Add Git menu to "Show In" menu.
Add Git to the "Definitions" view.
Directly link created pull request to the TD/OMS task.
Allow double-clicking interaction on task objects in the Git view.
Show a warning when file is not committed to Git.
Restarted identity column
When a SQL table with an identity column is moved through the development cycle with TD/OMS, the identity column is restarted to 1, even after records are copied back into the table.  The identity column should start where it left off.  Thanks to our customer CMA, they have supplied a generic procedure to restart the identity from the last number in the file. The source can be found in the QUSRSRC source library, and the program name is OMUSRIDENT. By calling this program with parameter library (10 char) and table (10 char) in processing step EO for all *FILE PF objects and Object detail *BLANK (to skip source members).
---
Remain Software customers, head now to our TD/OMS V12 Milestone 2 Wiki page for all Milestone 2 enhancements.
Not yet a customer? Contact us to learn more!
As always, we're happy to help you embrace change and remain in control through the growth, evolution and development of your business.
You're on your way.
And we're prepared for your next step.