Remain Software Opens New Routes By Connecting To IBM Rational Team Concert
---
Friday, May 2, 2014
Remain Software is happy to announce our latest development dedicated to IBM Rational Team Concert users who are looking for improving management of their IBM i legacy applications' development or IT teams willing to manage their IBM i applications' lifecycle in a modern and robust way. The new offering is a combination of the widely known and used collaboration tool from IBM with a Remain Software solution, TD/OMS, which supports application lifecycle management on IBM i. The new offering will be available May 2014.
The concept of integrating TD/OMS with IBM Rational Team Concert comes from the idea of giving IT managers, software engineers and other IT specialists the freedom of choice in the way they would like to manage software development process. It is related to the way of collaborating between team members, the steps of making changes to applications and/or the process of developing software.
Years of Remain Software experience on the Application Lifecycle Management market have shown that, due to a risk of huge work downtime, companies often shy away from investing in new tools. They not only don't want to be forced to learn how to use the new tool, but also are reluctant to implement new ways of work, which might not meet their needs and requirements.
TD/OMS in combination with IBM Rational Team Concert gives a lot of freedom to those customers and adjusts to the way of working they are already used to. It is also easy to use and configure, so the problem of unwanted downtime is minimized.
Marco Kok, managing director at Remain Software: "The TD/OMS integration with IBM Rational Team Concert is the next step in fulfilling the mission of Remain Software.  We constantly strive to help our customers with their software development and management in not only a robust, but also very flexible way. Our goal is to give them choice and let them decide what is the best way to manage their applications' lifecycle. IBM RTC is a widely known and popular solution, therefore it was obvious for us that TD/OMS must be able to connect with it. We expect that some may ask, why do we do it if we also have our own in-house developed workflow & task management solution, called Gravity. Our answer is that it is also a matter of giving freedom and choice between RTC and Gravity. It is customers' choice what works best for them. We just give the options."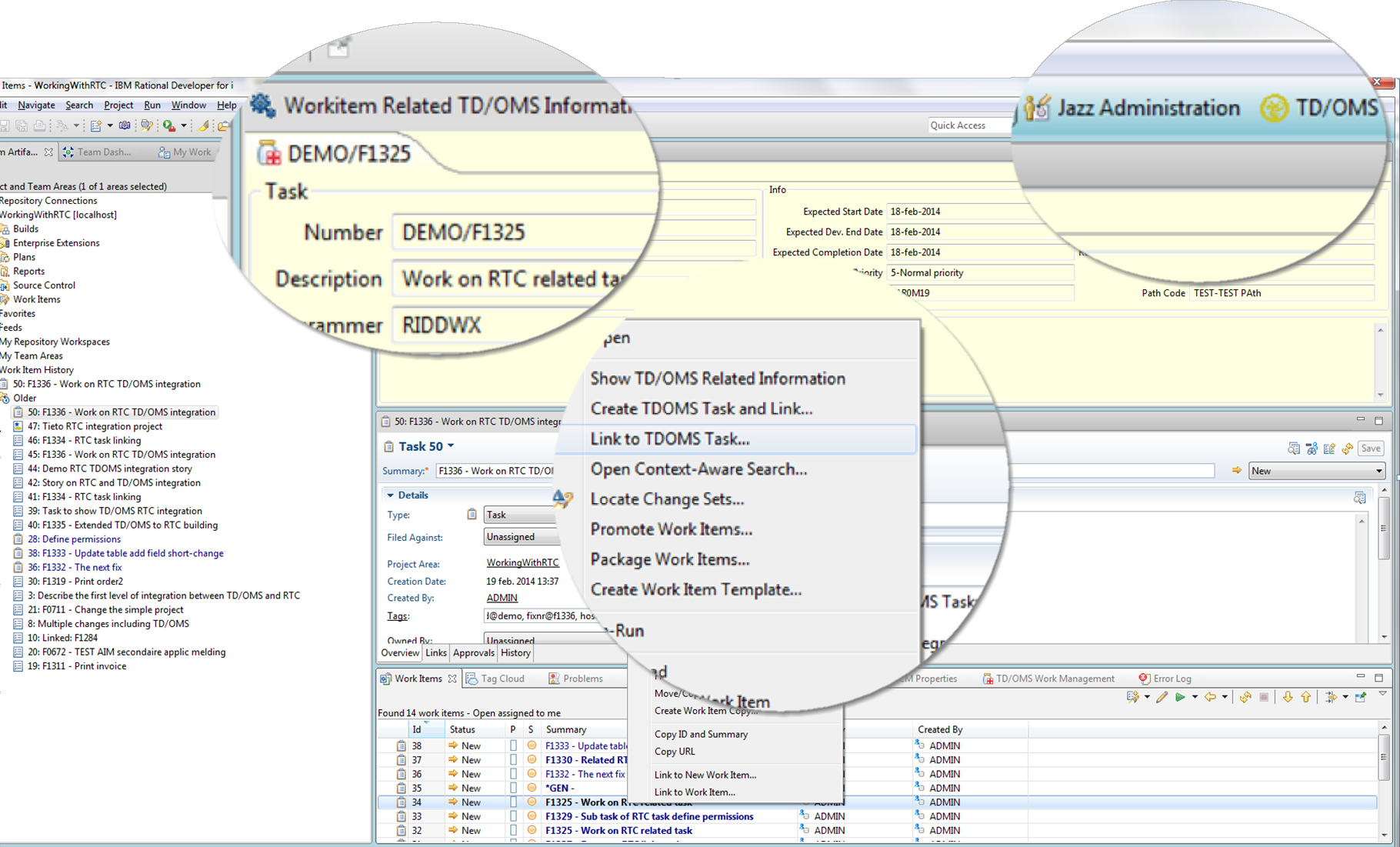 The build process with TD/OMS and IBM RTC
Among many features, the solution's key advantages can be found in the way the applications are built. The entire build remains fully under the TD/OMS control. The TD/OMS task makes it clear what is to be built in context of a TD/OMS defined application. Thus compilation (or recompilation), resource transformation, component distribution adheres to the rules and definitions per specification of the application to be built.
The integration between TD/OMS and IBM RTC allows creating issues and/or stories in RTC, and their assignment to a particular person who can manage the task-related source code within TD/OMS. There is no need to switch between tools to find the right component the user would like to work on, because all this code will remain within TD/OMS. It is also not necessary to remove sources from their natural environment, the IBM i libraries, to make changes. All code management takes place within the IBM i libraries.
IBM i related work is directed to TD/OMS. It is not just a build engine; it allows users to work in a way they are used to while still using the full project management capabilities of RTC. Transformations (recompilations, SQL execution, pre and post processing) can be performed when moving a TD/OMS application between defined environments, which makes it a true IBM i - SCM tool.
It is also worth mentioning that users can benefit from the strength of IBM i way of working, in combination with Java and/or RPG best practices and users' established workflows. The methodologies don't get in each other's way; therefore the best of TD/OMS and RTC can be used. Both systems adjust to users' environment, methodology, and way of developing software and help to improve management of the development process.
The IBM RTC integration will be available as an integral module of the Remain Software flagship product, TD/OMS.