TD/OMS release 9 milestone 1
---
Wednesday, October 19, 2016
We are happy to announce that TD/OMS Application Lifecycle Management is now available in version 9 milestone 1. It's one step further towards the official release of TD/OMS V 9.1 scheduled for June 2017.
New and Noteworthy V9 Milestone 1
WHAT'S NEW?​
New improvements in GUI
When Jira implementation is present, Jira issues folder will be added to a task or request;
Planning view has enchaced task calculations and new features in Gantt;
Enhanced merge sources possible;
Multiple tasks can be assigned/unassigned to a other programmer;
Possibility to prevent a programmer to delegate a task;
 Source scanner extended with BNDDIR patterns;
 Definition of a template source that gets copied along when a new object is created;
And many other issues and bugs resolved!
A linked JIRA issues folder has been added when a task or a request is expanded that will contain its linked JIRA issues. This folder will be absent if no JIRA implementation is present;
Task and filters calculations in planning view
The percentage complete of tasks and filters is calculated based on the days passed;

Gantt events improvements
Now it is possible to quickly see which tasks or events are completed or not with different selected colors in the Gantt chart;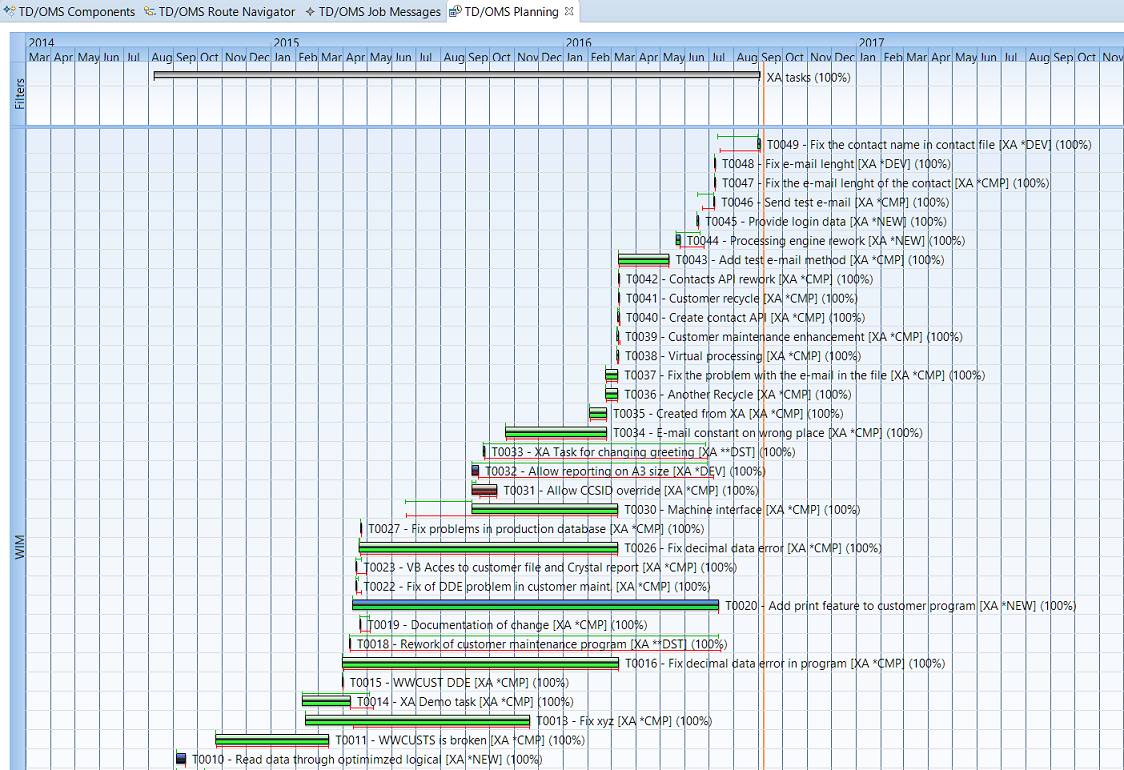 New Gantt sections order is presented
New Gantt sections order is selected:Task filters, Task filters content, Request filters, Request filters content;
Event updates in Gantt chart
When a task was dragged to change its dates the advanced tooltip and scope wasn't updated automatically and the focus was lost. Also when an undo/redo action is performed the chart will jump to the last event changed. If a refresh is done it will jump to the earliest scope date;
Merged Sources enhancement
Compare and Merge Sources functionality was added to compare and merge the changes;
Assigning-Unassigning a programmer to multiple tasks
Now multiple tasks can be selected in order to change their programmer;
It is now possible to prevent programmers to assign their own task to someone else for better accountability;
BNDDIR patterns extension for source scanner
The source scanner patterns have been extended, now also BNDDIR relations are extracted from the RPGLE sources;
Template source member in OMNOT
You can now define a template object in OMNOT which points to a template source that gets copied along when a new object is created;
The new version of TD/OMS is available as of October 19, 2016. Current customers can download it from the Remain Software extranet. Don't forget that your maintenance contract allows you to work with the latest version of TD/OMS at no additional cost.  If you need support with upgrading your TD/OMS, please contact our HelpDesk. 
Check the release notes in our extranet for more information. 
---
Contact our Sales team and check what we can do for you
---